Making money? It only takes a tenth of a second
…but the bad news is that losing money takes the same time too.
Here's why increasing the loading speed of your website even by just a tenth of a second can make a difference of up to 10% when it comes to online sales.
Research from business intelligence experts is very clear: user experience on smartphones is worth more than the actual product and brand.
Have you got a website – or are you planning to use one – as an e-commerce platform to sell your products? If so, you've come to the right place: and what you are about to read will either reassure you or concern you. The answer is going to be entirely down to how much you've looked after your website's performance, especially the mobile version, which is the crucial one in terms of developing strategies on how to grow your brand.
IMPROVEMENTS IN THE BLINK OF AN EYE
Before carrying on, let's do this simple exercise together: blink. That's right: just once. How long do you think it took? No more than a tenth of a second. Do it again. Now another tenth of a second has passed. Just memorise that blink and the amount of time needed to do it. In that space of time, you could have gained a customer and additional turnover. Or you could have lost them – and perhaps unknowingly sent them the way of your competitors. But that can easily be changed, as long as you're prepared to give proper time and attention to that crucial tenth of a second from now on. Which means prioritising your internet speed.
HOW MUCH IS THAT TENTH OF A SECOND WORTH?
Especially when it comes to the mobile version, each small improvement in your site's loading speed can have notably positive effects on your business. Each tenth of a second extra though will be negative – and you could even end up losing customers. The numbers, which form the basis of every growth strategy, are very clear on this. A recent study carried out by Deloitte in the USA and Europe on 37 websites in the luxury, travel, retail and service sectors has demonstrated how just one tenth of a second can affect every single stage of the customer journey. When it comes to conversions, that tenth of a second can improve sales by 8.4% on average in the media sector and up to 10% in the travel sector. Not only that, but the same study showed an average improvement of 9.2% on the value of purchases and up to 8% more page views.
"I was buying a short flight within Europe on an airline website. Everything was sorted and I just needed to pay – but the site wouldn't load the payment page. I left the official site behind and went to a well-known travel site instead, where I did everything quickly, and with a different airline in the end."
Anthony Peacock, business owner and journalist, London, September 2020.
CONSUMERS HUNT ON-LINE
The way people buy things has changed, highlighted by the Covid crisis. International studies have shown that consumers have moved increasingly towards online purchasing, especially for certain types of goods and services, such as clothing, electronics, and books. In particular, a study from August 2020 (again conducted by Deloitte) shows that 42% of consumers go trawling online: in other words, they go round different sites hunting for bargains to snap up. There are two important lessons here for brands: firstly that it's important to be in the right place at the right time: to seize the 'micromoments'. Secondly, that it's vital to know how to hold the attention of a potential client, which can be gone forever in just a matter of milliseconds.
So does all this make you feel worried or reassured? If you're in the former category, you probably suspect your website is a bit slow. Because ust a blink of an eye can make the difference between making and losing money.
News, studies and research on the world of Business Performance. Aimed at managers and staff of companies interested in the growth potential that Digital offers.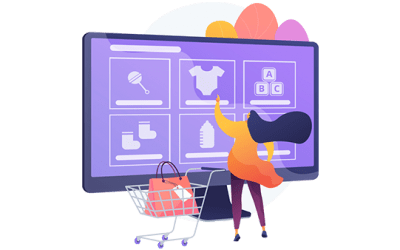 Do you know the first rule for e-commerce? Here it is: "if users can't find a product, they cannot even buy it". Full stop. And breaking this simple rule is easy, even without knowing it. You only need an item poorly displayed in the digital showcase, described with insufficient information or hard to reach due to a slow website, to blow up even the most refined branding, marketing and communication strategies.
read more
Master Core Web Vitals and boost your business
To configure the platform we need information and technical specifications.
Set a call to learn more